Today's interview is with Jehanne Henin, who translates from English, Russian and Croatian (a new one on me – fascinating!). Jehanne has been freelancing for 6 years and has kindly agreed to be part of my series.
If you could change one thing about your freelance translation career up to this point, what would it be?
I wish I had learned sooner to "just say no" (to some projects, clients or unfavorable terms). I would also try harder to make more spare time to do some sport, have a social life and take care of myself.
[more on just saying no here]
What is the best piece of advice that you have been given by a fellow translator, or about business in general?
This is a tough one. I'm always eager to learn from more experienced colleagues and, therefore, I read a lot of translators' blogs and forums. Chris Durban, for example, is a great source of inspiration for me. If I had to pick one among the valuable pieces of advice I get from her and other translators, this would be to specialise and to strive to become the go-to expert in your chosen field. And to read, read, read!
If you weren't working in the language services industry, what would you be doing?
I would have loved to be a doctor, but I didn't think I had what it takes to be one. If I hadn't chosen to quit my psychology studies to pursue a Master's in translation, I'd probably have ended up as a psychologist or maybe as an accountant, as I also had an interest for economics.
Thanks, Jehanne!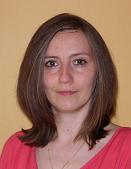 Jehanne Henin is an English, Russian and Croatian to French translator born and raised in the French-speaking part of Belgium. She holds a MA in Translation from the Institut Libre Marie Haps in Brussels and has been a freelance translator since 2006. Her fields of expertise include EU affairs, environment and renewable energy. She is a member of the French Translators Association (SFT).
You can take a look at her website here and find her on Twitter as @JehanneHenin.