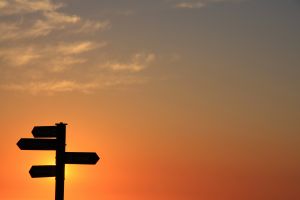 Where are you heading in 2013?
At the end of the year, when the days are shorter and darker (in the Northern hemisphere, at least), it can sometimes be difficult to see through the bleak, cold weather and recognise your progress during the year.
A lot has changed for me in 2012. This has been my first full year as a freelancer and I have worked extremely hard, but the benefits are so overwhelming.
My (informal) objectives for this year were:
*Going freelance
*Growing my network of colleagues
*Successfully balancing freelancing with part-time study
*Setting up a website
*Starting a blog
*Strengthening my online profile
Without wishing to sound smug, I'm delighted with how this year has gone. I'm not saying that it hasn't been hard work – at times it's been exhausting, but the reason that I put so much extra effort in is that I know that this is the career path for me. Recently I have been talking to some other, more seasoned linguists, and they told me that they had no idea what they wanted to do with their lives, let alone career-wise, when they were my age. Rightly or wrongly, I have wanted to go down this road since I was 15 and I have taken the direct route:
College – Bachelor's degree – Master's degree
There are a lot, and I mean *a lot*, of translators and interpreters who took a longer, more industry-based road, and the vast majority of them are fantastic professionals, but if I knew at 15 that I wanted to work as a freelance translator, why should I put myself on the slow train to my ultimate goal? I have tried out in-house work and the admin side of the industry, but it never felt right. Sometimes the safe option (for financial reasons or otherwise) needs to be rejected in favour of something that challenges and fulfils you. I used to get that horrible, nagging feeling in the pit of my stomach because I knew, deep down, that I desperately wanted to change my path. We all get that anxious feeing from time to time (driving test, anyone?), but if that feeling is there every day, something needs to change. It's a difficult decision, but mine was ultimately a lot easier than I had anticipated. And I'm not the only one:
That's not to say it has been easy, or that I haven't made mistakes (oh! the mistakes!), but going against the grain and throwing my career path out the window was the best thing I could have ever done.
Sarah Dillon, There's Something About Translation
People come into freelancing for so many reasons, and measuring success is a very subjective issue, but, for me, the heart of the matter comes down to three main points:
*Family – the flexibility of being freelance means that, when the time comes, I will be able to mould by business around a young family. This is something that is really important to me, and I know that a lot of fellow translators took the decision to go freelance for this reason alone.
*Finances – some people may not see it this way, but I now have more control over my income. The traditional view is that freelancing is financially insecure, which can certainly be the case starting out. The main point, however, is that you don't have all of your eggs in one basket. You have several sources of income, and no-one has 100% control of the money you need to feed your family, pay your mortgage or fund your travel habit (guilty!).
*Job satisfaction – I love translation. I love languages, I love my own language and I love being creative with language. I was made for this job, and I get paid for it! Aside from the actual work, I love (nearly) all aspects of running my own business: the marketing, the invoicing (a particular favourite), the planning and the blogging. On top of all of this, I can decide my own path, whether that means adding or removing a service, writing and selling a book, or doing a degree in one of my specialist areas.
So, you've jumped ship and gone freelance. Everything is going well but then, suddenly, things get tough. Maybe you've had a slow month work-wise. Maybe one of your clients has been slow to pay. You've lost a bit of that certainty that this is it – you're on the right track. All is not lost, but it can seem like it. Working independently is by nature an isolating experience, but it is vital to try and maintained a balanced view of your business. This post by Corinne McKay over at Thoughts on Translation suggests some ways to overcome the self-imposed psychological barriers to success that a lot of freelancers come up against. My favourite here is keeping records of successful projects and positive comments. Obviously, testimonials play a part in your website and marketing materials anyway, but the comments that colleagues and aspiring translators have made about my blog give me a real boost when my confidence takes a knock for whatever reason.
Over to you. This is not meant to be a therapy session by any means, but it's always good to learn from each other. What have you really enjoyed working on in 2012? What plans do you have for 2013? What do you really love about our industry?