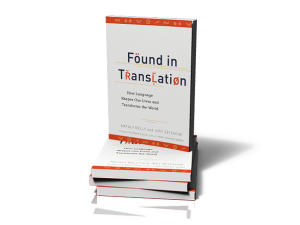 [image courtesy of the Found in Translation website]
If you're active on social media sites like Twitter, or read some of my favourite translation blogs (if not, may I direct you to the right-hand sidebar? ;)), you may have noticed that something exciting is coming: a highly anticipated book about how we linguists shape the world around us.
I preordered Found in Translation back in May and have been eagerly awaiting its arrival. Just one of its glowing reviews, written by star linguist Judy Jenner, says:
"Finally, a book that's not intended for linguists, but for the general public? One that will shed light on what we actually do, so you don't have to explain your job to parents anymore, who think you translate literature in your spare time while you apply for real jobs? And all this in a handy book format published by a major publisher? This could be the best thing to happen to the profession since computers."
The full review was published in the September-October edition of the Institute of Translation and Interpreting's bi-monthly publication, the Bulletin, and can also be read here on the Found in Translation website.
The book has created such a stir because the two authors are such well-known and respected figures in the T&I industry. Nataly Kelly started out as a telephone interpreter and is now the Chief Research Officer for the Common Sense Advisory, an independent market research firm specialising in the language services industry. She also writes about multilingual matters as a blogger for the Huffington Post. Jost Zetzsche is a German to English translator and writer on all things technological in the language services industry. Jost also produces a biweekly newsletter for translators, the Tool Box.
For those who have not yet ordered the book, a list of stockists can be found on the Found in Translation website.
My book should be arriving any day now, so if I disappear from the online world for some time, you will know why!