It's here! Welcome to the first post in my new interview series. Earlier this year, I started to gather advice and information about specialising from colleagues and now I'm ready to share it with you. Enjoy!
The first of my interviewees is a colleague who has forged a great career out of her expert knowledge in distinct areas.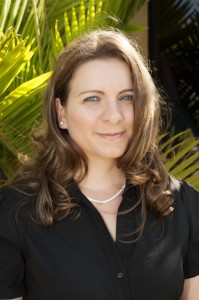 Say hello to Nicole, who translates between German and English in the fields of marketing, corporate communications and public relations from Brisbane, Australia.
Here are her thoughts on specialising:
Why do you specialise? What are the benefits and drawbacks of this approach?
You know how the saying goes: Jack of all trades, master of none. First, I don't believe that generalists will be able to survive in this day and age. Delivering 'quality translations' and a 'professional service' are no longer enough to distinguish ourselves from the competition in this crowded market. They are a given. So to stand out, we need to specialise and make a name for ourselves in a very distinct niche. As a result, you'll
a) only translate projects you're genuinely interested in and that you enjoy,
b) translate a lot faster and thus earn more money, and
c) be able to charge higher rates because you are presenting yourself as an expert in a particular field rather than just a generalist who only translates in this area every once in a while.
Of course, specialising means turning away clients and turning down jobs – a lot of them! – which can be quite scary initially. But I'd rather turn down a project and lose out on a few dollars than spend an age trying to do a job that's not within my areas of expertise and then potentially deliver a sub-standard product. It's just not worth it.
Do you feel that marketing yourself as a marketing and PR specialist allows you to charge higher rates?
Absolutely. Clients are definitely more willing to pay good rates if they feel they are getting value for money. And an expert in a specific area is more likely to provide such value than someone who doesn't specialise. If you needed a root canal treatment tomorrow, would you go to a specialist who does nothing but root canals all day long, although it may be a little bit more expensive, or would you choose a general dentist who only does one of them every couple of months? I certainly know who I'd choose!
How and why did you select your specialist field(s)?
When I first started out as a freelance translator, I made the classic beginner's mistake: I took on work in all kinds of areas and even struggled through the odd technical text. Needless to say, I worked out pretty quickly which types of text I enjoy and which ones I'm not too keen on. I used to work in-house as a marketing assistant for a short period of time and always had an interest in marketing, and I realised that I really enjoy translating company magazines, marketing copy, presentations and press releases. Over time, as my confidence and experience increased, I started to take on more and more assignments in these areas and declined more and more translations that didn't fit the bill. In addition, I completed a diploma in marketing communications and became a public relations consultant via distance learning to acquire the necessary theoretical background as well. These certifications, coupled with my increasing practical experience, allowed me to narrow down my areas of specialisation more and more, making my work so much more enjoyable (and profitable).
How would you go about adding another specialist area?
I don't think I'd add another specialist area any time soon because I believe two to three is just the right number. But with all the CPD available for translators these days, and all the distance learning courses and webinars we can choose from today, I'd start by learning more about the subject in question to understand the theory, and at the same time I'd start practising by translating a lot of relevant texts in my spare time and then have them checked by an expert in that field to get some expert feedback. This would also give me an idea if the subject really suits me or not.
Colleague profile:
Nicole Y. Adams runs NYA Communications, offering translations between German and English, language consultancy, translation workshops and mentoring sessions. Translation-wise, she specialises in marketing, PR and communications.
NYA Communications website: http://www.nyacommunications.com
Twitter: @NYAcomm