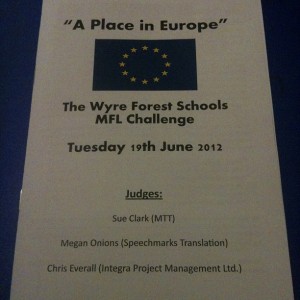 I had a very productive and feel-good day yesterday.
As I mentioned on Twitter yesterday, I joined forces with my Mum to tackle my 79-year-old Nan's garden. One of the perks (there are many!) of freelancing is the ability to set your own working hours and therefore to help people out if they need it. My arms may be aching, but I have that warm fuzzy feeling that accompanies a good deed!
After I'd brushed the leaves from my jeans, I spruced myself up (love that expression) and headed back out to the "A Place in Europe Competition" in Stourport-on-Severn to serve as a member of the judging panel for the first time. It was a great evening with a high standard of entries and provided a real insight into the star linguists of the future.
I really enjoyed my experience as a judge, and I would like to congratulate the winning team from Haybridge High School in Hagley, and indeed all of the contestants. The presentations were very professional and impressive from both a linguistic and a business perspective. In addition, I would like to say thanks to Sue Clark of Midland Technical Translations, who first introduced me to the competition.
It's always good to volunteer, whether it's to further your professional profile, to encourage beginners in the industry or just to help out your Nan 😉