Professional subjects from a personal perspective
25 Nov 2013 | 4 Comments | posted by Megan Onions | in Colleagues, Interview series, Specialisation series, The Business of Translation
Valeria is (or should be) well known to translators as the face of Rainy London Translations: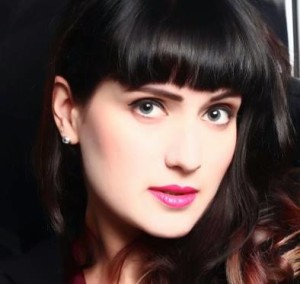 She is an expert on all things branding and even provides personalised sessions via her sister business. Here is her take on specialising:
Why do/don't you specialise? What are the benefits and drawbacks of this approach?
I did a BA in translation but then specialised in Interpreting and while the MA in Translation had several majors (Technical, Scientific, Literary or Business) the Conference Interpreting MA was focusing on the booth practice 100% (and I am thankful for that!) and did not have any specific topic to follow.
This means I did not really have a specialization per se. Plus, as a 'pure' linguist ie. not a person who has a previous degree in engineering or medicine etc. – I came out of uni like many, many colleagues and asked myself: riiiight… so what now?
As I did a work placement in a translation agency, I tried to find a job in-house as a PM but despite having the right experience, I was never successful as the recession hit right in that period. Hiring choices went towards the more experienced or those who were already internally working for the companies would be preferred to save money.  So I decided to go freelance!
Well, when I was younger I used to like drawing and being creative. Therefore, anything that has that direction drew my attention and as my partner is a designer, I was naturally exposed to the IT world. Even though I never studied marketing I find ads funny and creativity is something I tend to have in me, so I improved my skills by reading, reading and more reading,… with the objective of producing flawless copy in my language. As other colleagues of this series said, initially I had no clue so I did go for the 'take it all or bust' approach, making my mistakes 🙂
You'll never see me translate medical, financial or hard-core technical texts now but as in any job, I always have to SEE the file before accepting.
How and why did you select your specialist field(s)?
Specialising is a good option and everyone should try and find what they like. I now work for agencies and direct clients and my favourite topics are marketing, tourism, fashion/beauty and ads. I've recently started getting more and more work for software companies, TV or acting studios, even though for interpreting I may end up working in agriculture or architecture because in most cases you get to prepare the material.
Do you feel that marketing yourself as a specialist allows/would allow you to charge higher rates?
It should. Sometimes the market can be tough, especially in financially challenging times like – alas – these, where sometimes clients are ready to accept lower quality for cheap prices. Still, they will come back to you if you're THE expert, because… only when it hits them in their face, they realise how it hurts to have chosen a non-professional or non-specialised linguist 🙂
How would you go about adding another specialist area?
I am fascinated by the legal sector but I feel I lack the extensive skills to say I specialise in it. The differences between the legal systems of different countries make it even harder to find the right correspondences and material, as it's all ever changing and complex. But I'm working on it! I have already translated software, but I would eventually like to expand my creative side even more towards apps (which I am addicted too!) and other online platforms. As you see, what you love is the key here. The only thing sometimes is starting. Just read more in the topic you find interesting, scout for blogs or publications, stuff your e-reader with RSS and feeds and maybe get some online CPD/training. Echoing the famous Confucius' motto, here's my interpretation: choose a specialisation you love and you'll never have to work a single day in your life.
Valeria Aliperta (Associate of the ITI, MCIL, member of ASETRAD and IAPTI Head of External Relations) is a conference interpreter and translator at Rainy London Translations, working from English, Spanish and French into her native Italian for IT and web, fashion, design, marketing, legal and advertising. She also runs a branding consultancy at www.rainylondonbranding.com and is co-founder of The Freelance Box, which provides seminars and hands-on courses for freelancers.
Recent Posts

Recent Comments

Archives

Categories

English and Words

Freelancing

French and France

Germany and German

Translators