New Year's Resolutions are everywhere at the moment, so I'll make mine short and sweet:
1) Work with more local companies
Last year, I hired The Sketch Collective for professional photos and Rachel Bonness Design to design some marketing materials. I loved having the opportunity to meet in person to discuss my ideas, and supporting other young businesses was fantastic. Here are the results: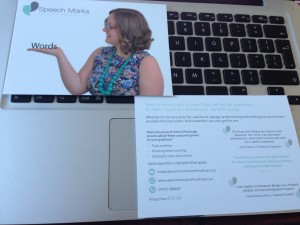 Graphic design by Rachel Bonness, photography by Thom Williams of The Sketch Collective
2) Attend client events
There are always plenty of translator only events to choose from, and they are both beneficial and enjoyable (see my post on the 2013 ITI Conference). In 2014, though, my goal is to change my focus to industry events, where I can maintain and improve subject knowledge, gain expert contacts for terminology queries and, ultimately, identify potential clients. If you're joining me in looking for possible events, here are Judy and Dagmar Jenner's top tips for visiting trade shows.
3) More CPD
2013 was all about maintaining (or attempting) a balance between my business and my degree. Now that my course is over – I'll graduate in a few weeks' time – I can give my business my full attention. One of my main aims for this year is to dedicate more time to new and existing skills with the help of in-person courses and online options from providers such as eCPD Webinars and Coursera.
4) Celebrate achievements and reward myself
Sometimes, we freelancers can be a little hard on ourselves. I, for one, can be a bit of a mean boss on occasion. In order to stay motivated, it's really important to recognise and celebrate achievements. 2013 was the year that I finished my Master's degree, worked with more direct clients than ever before and turned colleagues into true friends. What's not to love? If you're looking for a way to reward yourself for a job well done in 2013, take a look at Corinne McKay's post on giving yourself a bonus.
What are your goals for this coming year?