Professional subjects from a personal perspective
28 Jan 2014 | No Comments | posted by Megan Onions | in The Business of Translation
Translators often talk about what we can and should do to please our clients. There's nothing wrong with that at all – I always strive to exceed expectations – but we should also be selective when looking for new opportunities.
I revisited this guide for clients on Betti Moser's website the other day, which outlines many points that create and maintain a healthy and successful business relationship. Maybe we should all have one of these on our websites…
The best things about my favourite clients are:
• Friendly relationship
As I mention on my main website, I enjoy a relaxed relationship with my clients. The lack of forced formality creates a friendly atmosphere and makes asking questions a lot easier, which brings me to…
• Good communication
Sharing information can really help when issues arise. Does your client let you know when the finished file has been safely received? I always check up on the receipt of files and invoices, and it's a real help when I get a prompt reply.
• Feedback
I am happy to provide feedback for my graphic designer or web designer. As a client, I know that they all appreciate the time it takes to make comments or suggestions, and I am very grateful when my clients do the same. It also helps to add to my testimonials and build on my reputation, which is never a bad thing.
• Respect for my work
Unfortunately, receiving an enquiry with an unrealistic deadline is not all that rare. When my favourite clients get in touch, they understand that quality work takes time and that I may not be able to take on a new project straight away. This understanding means that, faced with a choice, I make work for my favourite clients a priority.
• Prompt, hassle-free payment
Paying promptly should be a given, but fast and reliable payment is definitely something that makes my favourite clients stand out.
What do you love about your favourite clients? It's good to share 🙂
13 Jan 2014 | No Comments | posted by Megan Onions | in Colleagues, Interview series, Specialisation series
So here we are, well into January! Where did that time go? I'm hard at work on my goals for this year but, in the meantime, let's get back to business with a new post in my specialisation interview series. Say hi to Marie Jackson: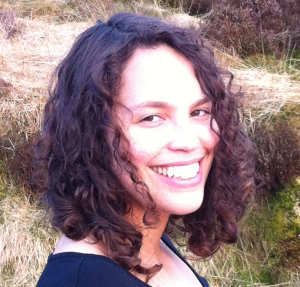 1) Why do you/don't you specialise? What are the benefits and drawbacks of this approach?
I specialise in business, marketing, law and logistics, and am currently working on further developing my knowledge of law. Apart from giving me the opportunity to learn more about the fields I find interesting, I think that specialisation makes it easier to run a business. By specialising in a few select fields, I can better target my marketing and operate in a more focused manner. This also gives me the opportunity to work faster (with or without the help of CAT tools), which of course means I can take on more work! The main drawback of specialising is that it can be an expensive, time-consuming process. Ultimately, however, the return on investment is huge, both on a personal and professional level, so it's certainly worth it.
2) Do you feel that marketing yourself as a specialist allows you/would allow you to charge higher rates?
I definitely feel that being a specialist allows you to command higher rates for your work. It's the same in every other industry, so why not ours? It takes a lot of time, effort, money and sacrifice to specialise in a field alongside languages/translation/interpreting (which are already very time-intensive!), and our rates should reflect that.
3) How and why did you select your specialist field(s)?
Some of my specialisms were selected for me, and some I chose myself. I get lots of business and marketing work, and I covered these a lot at uni, so it makes sense for me to head in this direction. My logistics specialism arose from my first year of freelancing, during which I did a lot of work for a chemical logistics service provider in Germany. I'm now very comfortable working in the field, so although it may not have been my first choice, it's a firm favourite today! It helps that my father works in logistics, so I grew up immersed in the field to an extent. Finally, law is my personal choice of specialism. I've always been interested in the law, and have found that it ultimately rests on semantics and pragmatics, which appeals to my inner nerd. Furthermore, communication is vital in a fair legal process, and so I can give something back by building my legal knowledge. By specialising in these four areas, I'm able to help my clients in all areas of their operations, from writing their first business plan and marketing their company, to drafting service contracts and managing distribution – and this is something they really value. I also often find that these fields overlap; I frequently translate marketing copy for logistics companies, for instance!
4) How would you go about adding another specialist area?
As a very visual/kinaesthetic learner, I like to read widely around my subject and get personally invested in the field. Much like when studying a language, I have used an immersive approach to building my specialisms. In particular, I read a lot of daily magazines and newsletters about law, my newest specialism, since they help me to understand the issues which affect that industry. They also show me the language lawyers themselves use to discuss their field. In addition, I attend industry events, which offer great opportunities to learn more and make valuable contacts. Finally, I find that I'm always more motivated when I'm working to deadlines, so I like to take courses relevant to my field. These force me to be disciplined and ultimately end in some form of assessment, which I see as a validation of my knowledge in that field that can also help to reassure my clients. I'm still developing my legal specialism, but this approach has helped me to really get my foot in the door. Specialising can be a challenge, but I think that it really appeals to linguists in that we're often very curious people who like to learn about the world around us. We might therefore be one of the few professional groups who actually love doing CPD – I know I do!
Marie Jackson MA (Hons) AITI is a professional translator and interpreter and owner of Looking-Glass Translations. She works from French and German into English and specialises in business and marketing, law and logistics. Find her online on LinkedIn and Twitter, or visit her website for more information on her services and CPD record.
2 Jan 2014 | No Comments | posted by Megan Onions | in Colleagues, Me, The Business of Translation
New Year's Resolutions are everywhere at the moment, so I'll make mine short and sweet:
1) Work with more local companies
Last year, I hired The Sketch Collective for professional photos and Rachel Bonness Design to design some marketing materials. I loved having the opportunity to meet in person to discuss my ideas, and supporting other young businesses was fantastic. Here are the results: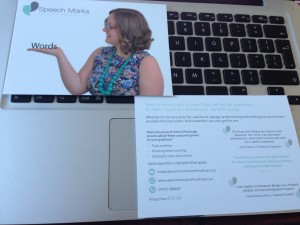 Graphic design by Rachel Bonness, photography by Thom Williams of The Sketch Collective
2) Attend client events
There are always plenty of translator only events to choose from, and they are both beneficial and enjoyable (see my post on the 2013 ITI Conference). In 2014, though, my goal is to change my focus to industry events, where I can maintain and improve subject knowledge, gain expert contacts for terminology queries and, ultimately, identify potential clients. If you're joining me in looking for possible events, here are Judy and Dagmar Jenner's top tips for visiting trade shows.
3) More CPD
2013 was all about maintaining (or attempting) a balance between my business and my degree. Now that my course is over – I'll graduate in a few weeks' time – I can give my business my full attention. One of my main aims for this year is to dedicate more time to new and existing skills with the help of in-person courses and online options from providers such as eCPD Webinars and Coursera.
4) Celebrate achievements and reward myself
Sometimes, we freelancers can be a little hard on ourselves. I, for one, can be a bit of a mean boss on occasion. In order to stay motivated, it's really important to recognise and celebrate achievements. 2013 was the year that I finished my Master's degree, worked with more direct clients than ever before and turned colleagues into true friends. What's not to love? If you're looking for a way to reward yourself for a job well done in 2013, take a look at Corinne McKay's post on giving yourself a bonus.
What are your goals for this coming year?
Recent Posts

Recent Comments

Archives

Categories

English and Words

Freelancing

French and France

Germany and German

Translators