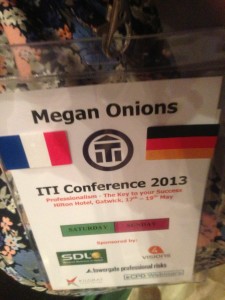 As you may know, I attended my first ITI Conference recently. As you may also know, if you are a fellow fan of Twitter, there was a dedicated hashtag for the event: #ITIConf13. If you didn't have the time to keep up with all of the tweets from the conference (and there were a lot), you can search for the hashtag to catch up now.
As a newbie, I was a bit apprehensive, but the friendly atmosphere is one of the lasting impressions that I will take away from the event. One of my aims as an attendee was to put a lot of faces to Twitter handles, and I was delighted to meet so many of my colleagues in one place. The only downside was not having a lot of time to talk, as the programme was jam-packed with talks, consultations, a pop-up photography studio and even a choir. My choice of sessions covered specialisation, workflow, accuracy in translation, professional development and technology – a great mix of topics, which provided a lot of food for thought (and a to-do list!).
A particular highlight for me was meeting and listening to both Chris Durban and Jost Zetzsche, the latter of which delivered an extremely enjoyable and inspiring keynote speech, which really highlighted the great value of our profession. One quotation, which I considered to be particularly significant, and one which I tweeted at the time, is the following: "we don't just create words, we create worlds".
After two hectic days of networking, attending seminars and celebrating the profession that we love, I headed homewards with my ITI canvas bag laden with notes, business cards and even some caramels (a kind gift from a friend and colleague). I've been busy implementing advice and ideas ever since!
To read more about the conference from colleagues' perspectives, Catherine of Lingua Greca has blogged about her highlights and José of Bluebird Translations also wrote a post about his experience. In addition, Alison Hughes has written a poem about the experience. Take a look and get a taste of the atmosphere.
If you're heading to an industry event soon, these posts might be handy:
* WantWords – tips for networking at events: before, during and after
* Drew's Marketing Minute – 6 steps to success for conferences and networking events
*Thoughts on Translation – audio blog: finding direct clients through industry conferences