Today's interviewee is Catharine Cellier-Smart, a French to English translator who lives on beautiful Reunion Island in the Indian Ocean (jealous?).
Here are Catharine's answers:
1. If you could change one thing about your freelance career up to this point, what would it be?
This is a difficult one which you might need to ask me again in a few years! Although I've many years experience translating, I've only been a full-time freelancer since last year, so I don't think I have enough distance today to know what I'd want or need to change.
2. What is the best piece of advice that you have been given by a fellow translator, or about business in general?
Two things really – don't be afraid to say no, and on a more practical, general business level – get everything down in writing. Also something basic I've observed over the years and that it's good to bear in mind: business and emotions don't mix.
3. If you weren't working in the language services industry, what would you be doing?
I worked for many years in non-language related jobs but today I wouldn't necessarily want to return to what I was doing before. I'd probably be happy working in something related to the web or social media, or – why not – as a scuba dive instructor, although I'm not quite sure I've got the calm temperament needed for that job!
Thanks, Catharine!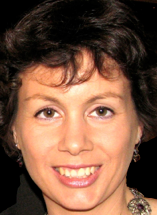 Background: Freelance French to English translator Catharine is a native of London who has been living abroad since 1990. She holds a degree in European Studies from the University of Wolverhampton, and an MBA from the University of Reunion. After an initial period freelancing (translating, interpreting and teaching) in the early 1990s, she moved into non-language related work until 2008 when she moved to South Korea for three years. After almost 20 years of translating she finally became a full-time freelance translator and interpreter on her return to Reunion Island in 2011 (http://smart-translate.info). Her specialisations include business, manufacturing, transportation, ecology & travel.
She can be found on Twitter at @Smart_Translate and blogs about language and translation at http://asmarttranslatorsreunion.wordpress.com.